A number of industry trends, such as increasing to use recycled paper, making neutralized paper, closing water system have increased the potential for deposition in the paper making machine, thereby making it more difficult to maintain high machine productivity and paper quality. It is very important how to manage deposition on whole machine to prevent defect and sheet break.
Maintech proposes "Total Solution for Deposit Problem" after discussing about the problem, checking paper machine with customer. That's why we call ourselves "Consulting Partner for Eco-Paper-Making."

Maintech has UNIQUE and ORIGINAL technologies for helping "Eco-Paper-Making". These are combined technology of Chemistry (Chemical), Equipment and Application Expertise (Technology) and tuned to each customer. These are many satisfactory result on every grade paper machine.
Applying chemical on paper making machine is fundamentally different from applying chemical additives in the wet end.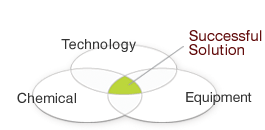 For this reason, specially designed chemical and equipment have been developed for this technology. Chemical establishes high-release performance, deposit-free and linting-free coating on surface of paper making machine.